He came virtually out of no where last year, soared to the finals and in the end lost to Jace Wayland. But this year – THIS YEAR, Zachary Moore is back and we're taking him all the way baby!!
We'll we're not personally…I'm just helping by posting this – but the fantastic and wonderful and people I'm lucky enough to call my friends, Amy & Jen at Fictitious Delicious are the advocates for Zachary Moore in the YA Crush Tourney again this year. And they won't sleep, eat or shower (ok…maybe shower) until Zach wins this years tourney!
Along side Jeri Smith-Ready, the mastermind behind Zach's master-behind, Fictitious Delicious is having a can't miss contest for the ENTIRE SHADE series, signed!!!
Now, you'll have to pop to their site by clicking HERE to enter THAT contest, and for the official rules. I hear it has something to do with shamelessly pimping the good name of Zachary Moore…but you do that daily anyway, why not earn entries for a bomb-diggity contest along the way? (yea, I said bomb-diggity…what of it?)
Before you go do that, mark these dates on your calendar and just for having some general fun to help support Zachary Moore!
FISRT - Go sign up for Team Kilt HERE
Come to Fictitious Delicious' Team Kilt Twitter party Thursday, July 5 at 11:00pm ET / 10:00pm CT. FicD be rallying the troops for voting day and unveiling Fictitious Delicious sekrit project from the #TeamKilt scavenger hunt! Follow along on the #TeamKilt hashtag.
VOTE FOR ZACH ON FRIDAY, JULY 6 at the YA Sisterhood blog.  Voting starts at midnight Eastern Time. You can bet your bottom dollar that FicD will be there at 12 bells.  FicD would love to see you there, too!
Show your love by sporting this button on your blog, as your twitter avi….print it out and stick it to your forehead – do what you can't just get the word out!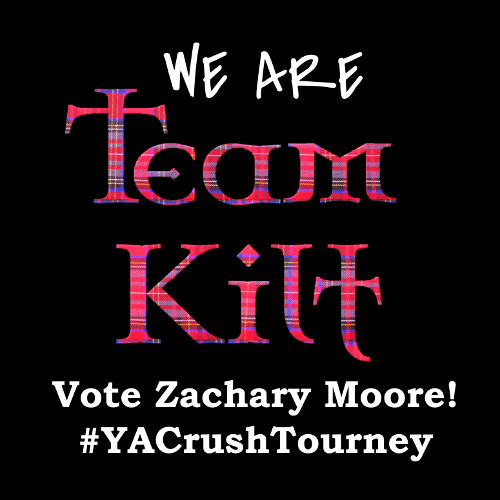 Now if this post was a bit jumbled, I'm blaming the fact that I'm thinking of Zach while writing about him and this clouded my ability to string together actual sentences…For all the coherent info remember to hit up Fictitious Delicious' blog by CLICKING HERE and let them tell you all about things I could have missed…
Don't forget to vote, don't forget to join and enter and spread the word!!!
Fictitious Delicious: http://www.fictitious-delicious.blogspot.com/
Jeri Smith-Ready: http://www.jerismithready.com/